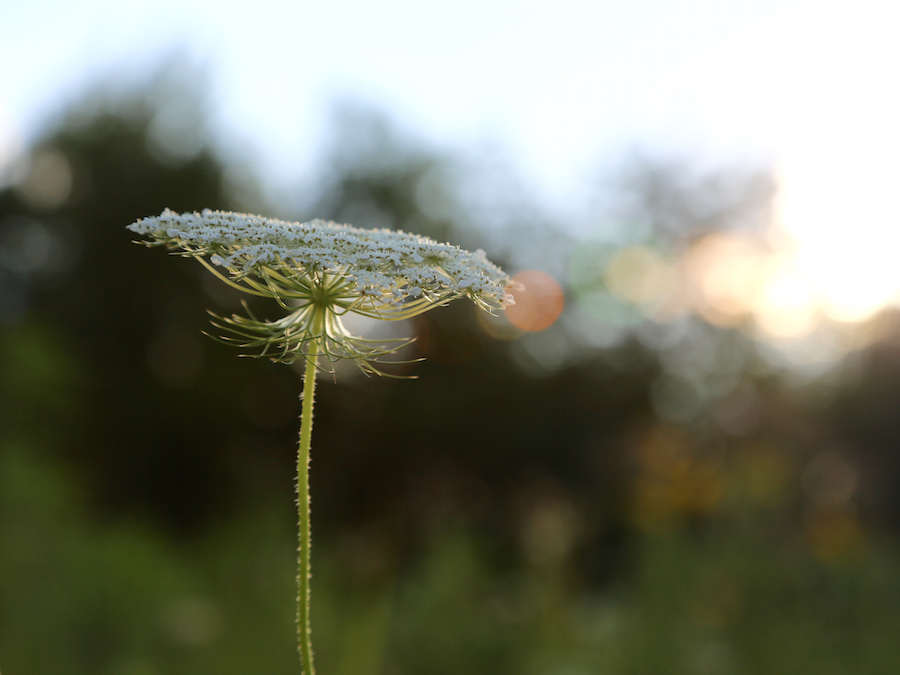 Welcome to the Field Guide to Everyday Magic Blog Hop! I'm honored to be hosting the very first giveaway of this beautiful publication. It's a pocketful of inspiring prompts and gorgeous images with plenty of pages for you to fill in, and you can tuck the whole thing right in your purse! I've written a special post here to kick off the blog hop in the spirit of Bella Grace. Please read on and be sure to leave your comments below for a chance to win a free copy of the field guide. By the way, I'll also be including some extra goodness in the package just from me to you! Comments will remain open until 9pm Eastern time on Thursday, August 10, 2017. I'll choose a random winner and then announce the name in a new post here on August 11th! Good luck and enjoy! This giveaway is open to residents of the U.S. only, but if you are overseas, you may be eligible to win a digital copy of Bella Grace magazine.
***
Do you remember how it felt to be three years old? Or six even? I don't recall entirely, but I do see flashes of my early years thanks to my two young children. While I am intentionally parenting them and guiding them through their days, my daughter and my son are also unknowingly schooling me in the art of living with a child's spirit. They see life through such clean lenses, unencumbered by the smudges and stresses of adulthood. They remind me to loosen up and lighten up time and time again.
"Mommy, watch! Look what I can do!" my three-and-a half-year-old son calls out from the bathtub. I'm sitting right there, just inches away from him, but he projects with volume and enthusiasm nonetheless. I put my phone camera down and give him my full attention, ready for whatever stunt he is about to perform. He tips himself backward, throws his legs up in the air, and gets the back of his head wet. Then he pops up again with a huge grin. The proud look on his face clues me in: that was it. That was what he wanted to show me. I smile and raise my eyebrows in surprise. "Oh wow, buddy," I say. "Nice job! How did you do that?" It's nothing significant to an adult, perhaps, just tipping back like that, but I can see how pleased he is. "Like this! Watch, I'll show you!" he says, doing his maneuver all over again. Water splashes on the wall, the floor, and me, but my son doesn't notice. He's still smiling, bubbles stuck to the side of his head. "You can do it, too, when you get little again like me," he says.
That expression has come up on multiple occasions since then, like when he dismantled both of our couches and built a mountain of cushions upon which to climb. Or when he dumped half a jar of colored bath fizzies into the tub and showed me the dark bluish-grey "thunder water" he had created. My son knows I'm grown up, but he firmly believes that I'll get little again someday. In a way, perhaps I can. My physical body is full-grown and will continue to age in the years to come, but my spirit doesn't have to. I may have a whopping credit card bill to pay this month and lots of logistics to keep track of when it comes to raising a family, but my vision doesn't have to be jaded. It can be tinted by whatever colored bath fizzies I want to add to my day.
At six, my daughter is a creative wellspring. She loves to keep busy, but she also seems to understand the need for reflection. Sometimes she asks for permission to go outside on the deck by herself, "just to listen to the sounds." I oblige, thrilled that she takes the time to slow down and tune in to nature. On occasion, she brings a notebook and paper with her to sketch flowers in the garden. Other times she sits in the tree swing or picks a bouquet of zinnias and Queen Anne's lace. Her demeanor is always calmer and happier when she comes back in the house, flowers in hand. She then gives me a report of all the sounds she heard, which lately have included the music of cicadas, the chirping of goldfinches, the cawing of crows, and the ringing of our wind chimes. Some days she tells me about seeing her chipmunk friend Chit-Chit or glimpsing something out of the corner of her eye that might have been a hummingbird.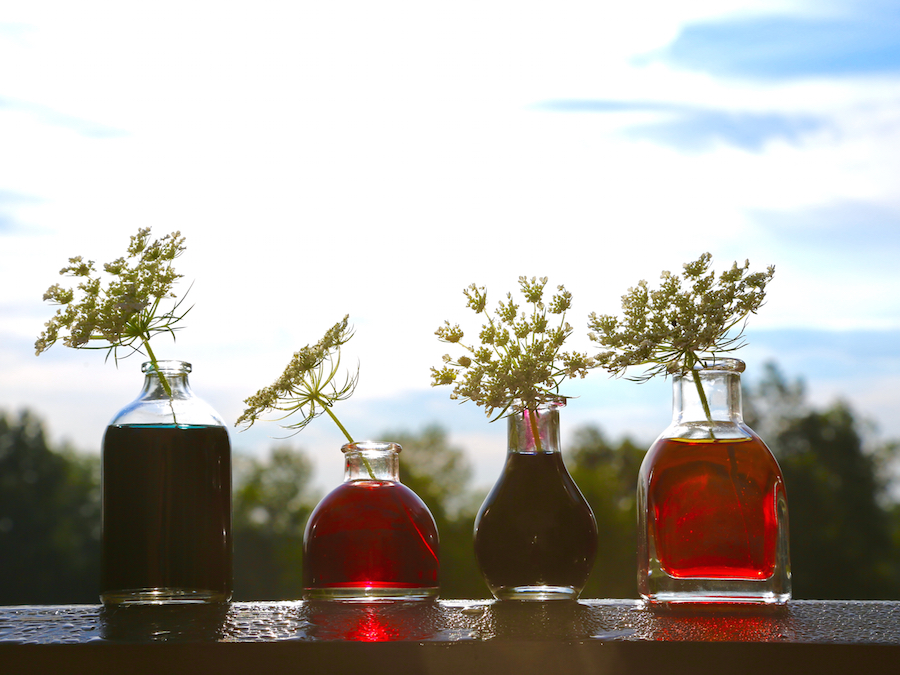 I didn't have colored bath fizzies when I was little, but I do recall loving bubble baths. I also adored picking Queen Anne's lace for my mom. I even remember her teaching me how to dye the flowers by putting food coloring in their water. As an homage to then and in honor of now, I decided to teach my children the trick. I thought it would be fun to try it with bath fizzies instead of food coloring, but apparently the fizzies weren't strong enough. The next day I got out the food coloring and we squirted about 20 drops in each little glass vase. My son made some "thunder water," my husband opted for a reddish-burgundy, my daughter mixed up a deep violet, and I went for liquid sunshine. Before breakfast, we placed the Queen Anne's lace in the vases and let the flowers take a long, colorful drink. What we found after lunchtime delighted all four of us. It's amazing how flowers and food coloring can brighten the atmosphere and lessen the stress of everyday life! If you'd like to see for yourself, gather some white flowers like Queen Anne's lace, daisies, or mums, some food coloring, a few clear glass bottles or vases, and go for it! I suggest cutting the flower stems on the diagonal and making sure they aren't too long. The shorter the stem, the quicker the color will travel up to the flower!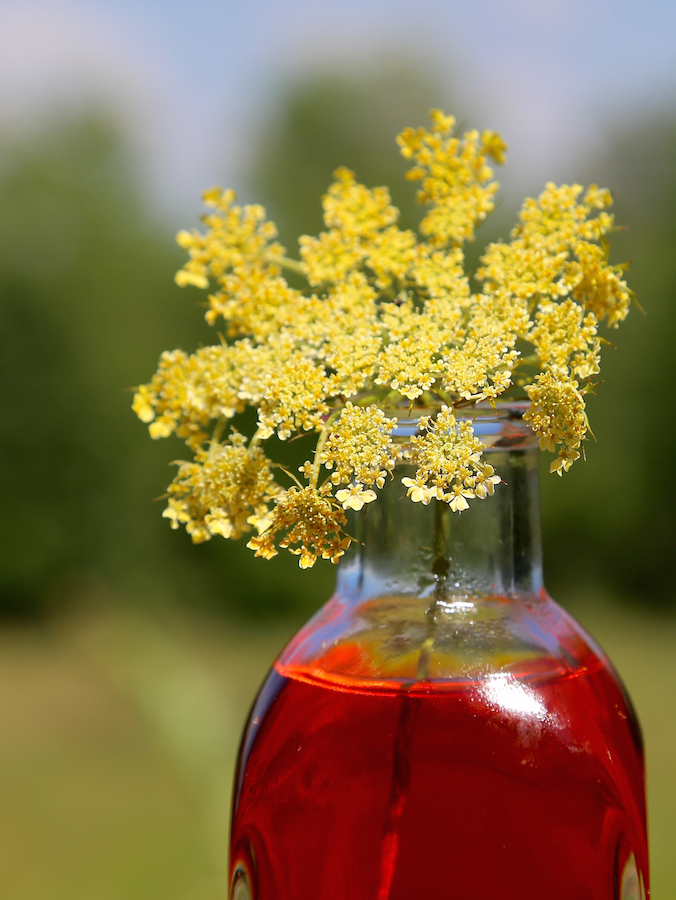 ***
How about you? What activities delighted you as a child? In honor of then and for the sheer joy of now, I encourage you to do at least one again. Tell me about it in the comments below for a chance to win a copy of the Bella Grace Field Guide to Everyday Magic! Your body may be grown up, but you can still be young at heart and filled with light!
COMMENTS ARE NOW CLOSED! PLEASE CHECK BACK TOMORROW FOR THE RESULTS OF THE DRAWING!